Ages 11-17
Our Christian Camp Program
At MRO, we take the inspiration for our activities right from Maine's wilderness. We focus on our surroundings, which is a great place to rock climb, mountain bike, kayak, stand up paddleboard, canoe, paintball, waterski, archery, rustic crafts, and much more.
A day at camp is pretty special. We're up early, and we're tired when we finally call it a day. Our days are filled with a combination of skill based activities, Jesus, free time, and a lot of fun.
Our activity program is skill based and campers are awarded for their achievements based on their level of mastery: Basic, Advanced, and Masters. Campers sign up for three activity periods each morning. If a camper wants to take archery all day, they can. But if they want to switch it up with archery, survival and rock climbing wall, they can also do that. The following day, they can do the same things, or pick three different activities.
After dinner, we get ready for our evening program. It varies, from Cabin Night, to Unit Night to an all-camp evening game. Our evening games are always something BIG, not just Capture the Flag, but Capture the Flag combined with a color run and a scavenger hunt!  We close the day with a cabin debrief, giving campers a chance to talk about their highs and lows for the day and for counselors draw out teachable moments.
Overnights
Every cabin gets a chance to stay overnight in the Maine wilderness. You'll either go backpacking or canoeing. We paddle the waters of the Moose River, hike mountains like the Bigelow range, and have a blast along the way. Trips are challenging, but age-appropriate for each cabin.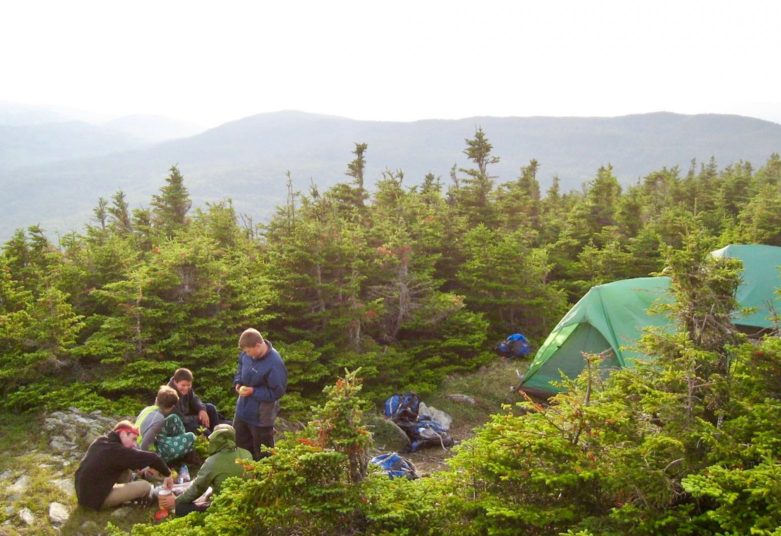 Day Trips
Campers develop amazing skills at MRO – Rolling kayaks, climbing complex rock routes, and mountain biking tight single-track. Day trips let our campers put those skills to use and otherwise enjoy the amazing outdoors that surround us. Campers choose for themselves from rock climbing, mountain biking, kayaking, hiking, waterfall swimming, and more. Our monthers will head out on the Kennebec for a day of rafting.
Faith Journey
Counselors at Moose River Outpost are instructors, mentors, coaches, friends, and confidants. When it comes to spiritual matters however, perhaps they could be best described as tour guides. Counselors show off the pristine Maine woods, which can't help but attest to God's power, majesty, creativity, and love.
In our daily Bible Studies, counselors show campers how the Bible works, not only how to read it, but how it can be relevant as a lifetime guide and a centerpiece of our relationship with God. We emphasize that the Bible is our best way of understanding God, His plan for us, and the perfect love that motivates that plan. Our counselors guide campers in exploring these truths—truths that are better lived than lectured. Finally, our team of counselors lead our campers in discussions about God's word, first by hearing briefly from our Camp Pastor, followed by questions in small groups to tease out the meaning and relevance of the passage.
Looking for something more specialized?
The Wilderness Intensive Leadership Development Program (WILD) program, is a 2-summer, 4-week program focusing on adventure and outdoor skill acquisition, team building, and mentoring. WILD gives participants a strong spiritual foundation through the opportunity to consider deeper questions of the Christian faith in a community and adventure context.