Brookwoods Conference Center
Our Conferences and Retreat Facilities
Deer Run Lodge
You will know that you are at camp when you walk into the Lodge at Deer Run. Upper Lodge (main floor) can accommodate up to 250 people. It includes a stage and a large stone fireplace. Deer Run Lower Lodge includes a recreation hall and limited kitchen facilities with a small café area with tables. It is equipped with air hockey, ping pong, carpet ball, and foosball. Just outside is a Gaga pit and tetherball. There are 3 smaller breakout rooms in Lower Lodge.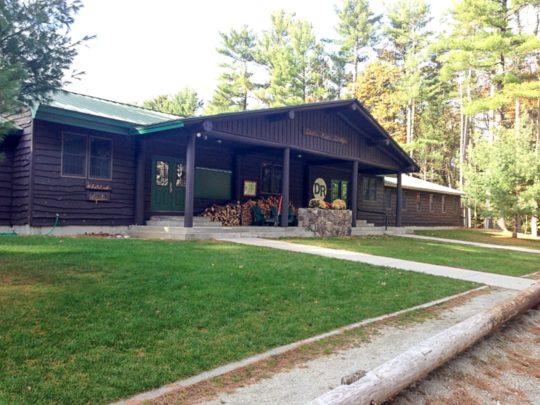 Moose Hall
Moose Hall is the main gathering hall for groups meeting in Brookwoods and Chocorua. This large finished barn is a beautiful space with air hockey, ping pong, foosball, carpet ball, and pool. It has a fantastic view of Lake Winnipesaukee and Rattlesnake Island.
Chocorua
Chocorua, named for the nearby Mt. Chocorua in Tamworth, NH, is located directly above our Dining Hall. It can hold up to 150 people for a more formal meeting space. It has connecting doors to Moose Hall, the large group recreation area.
Moosilauke
Moosilauke, named for the nearby Mt. Moosilauke in Benton, NH, is located on the lower level of our main building, below the dining hall. It can hold 100 people or be divided into two rooms via a partition. It is also next to our theater and JJ's Café. Adjacent to these rooms is our outdoor patio, complete with fire pit and chairs.
Theater
Our theater seats about 90 people and can be used as a movie theater or lecture space. If you would like to watch a live event, or movie, as part of your retreat, please contact us to let us know your needs.
JJ'S Café
Our café is an inviting place to have casual meetings, a small group meeting, or breakouts. It has sofas, café tables, and a foosball table. The atmosphere is smaller and more adult-oriented than our other spaces.
Heritage Conference Room
the heritage room is a more formal conference room that can be used for a breakout session or small meeting. this room seats 15, has one large board type table, a flat-screen tv with wifi capability, and a large whiteboard for brainstorming sessions!
Brookwoods Conference Center
Request a reservation
Interested in booking our facilities for your group?